Your technology and security operations
in the hands of professionals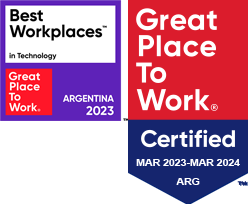 Your technology and security operations
in the hands of professionals
IT SOLUTIONS DESIGNED FOR YOUR ORGANIZATION
We are a growing national technology consulting company.
Our staff is highly experienced and certified in different business areas to provide a customized high quality service, with solutions tailored to each client.
We have also expanded our team with strategic alliances aimed at providing our clients with comprehensive cutting-edge solutions across their organization.​
We are committed to continuous improvement, quality, and customer satisfaction.
International certification underscores our commitment in the European and Latin American market, with coverage throughout Argentina, Spain, Mexico, Chile and Colombia.
We improve the use of the infrastructure and increase productivity.
We design the architecture based on your needs to take care of your company's most important asset.
X-86 architecture solutions consulting and implementation.
We provide advice and support to our clients against constant threats to data centers.
Casa Central:
Humberto Primo 630 – Piso 2 Oficina H24 – Complejo Capitalinas – CPX5000FAN – Córdoba Argentina.
Teléfono: 0351-5543795